This post shows you the 18 best college girl duo Halloween costumes. These costumes are easy to recreate and perfect for best friends or groups.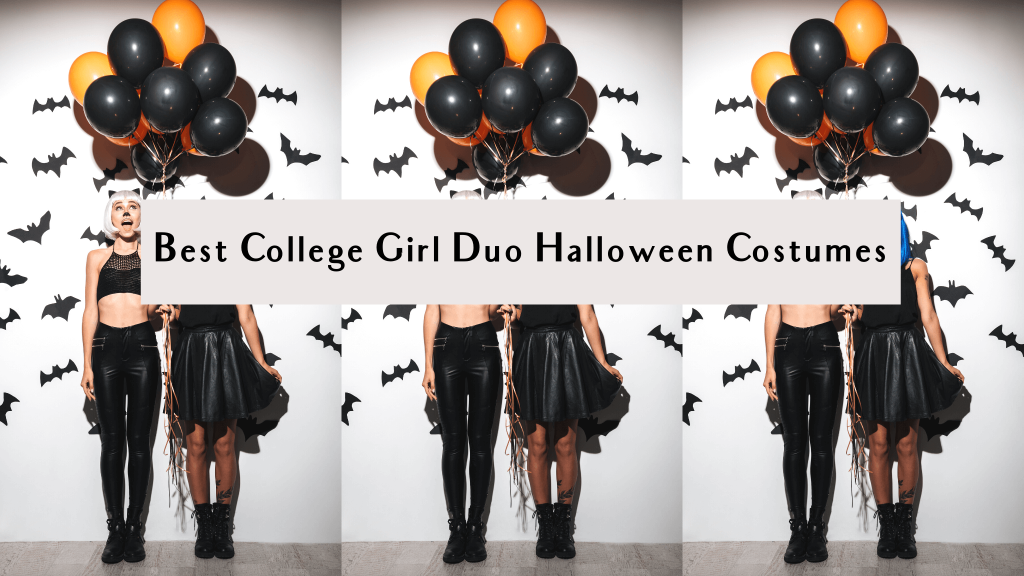 Halloween costume ideas college girl
Who's with me that Halloween costumes should be cute but easy?
I personally don't like spending a ton of time on my costume, and maybe you're a last-minute Halloween type of person too.
In the below list, you find 18 genius but insanely easy duo Halloween costumes for best friends.
18 Best College Girl Duo Halloween Costumes
1. Incredibles costume girl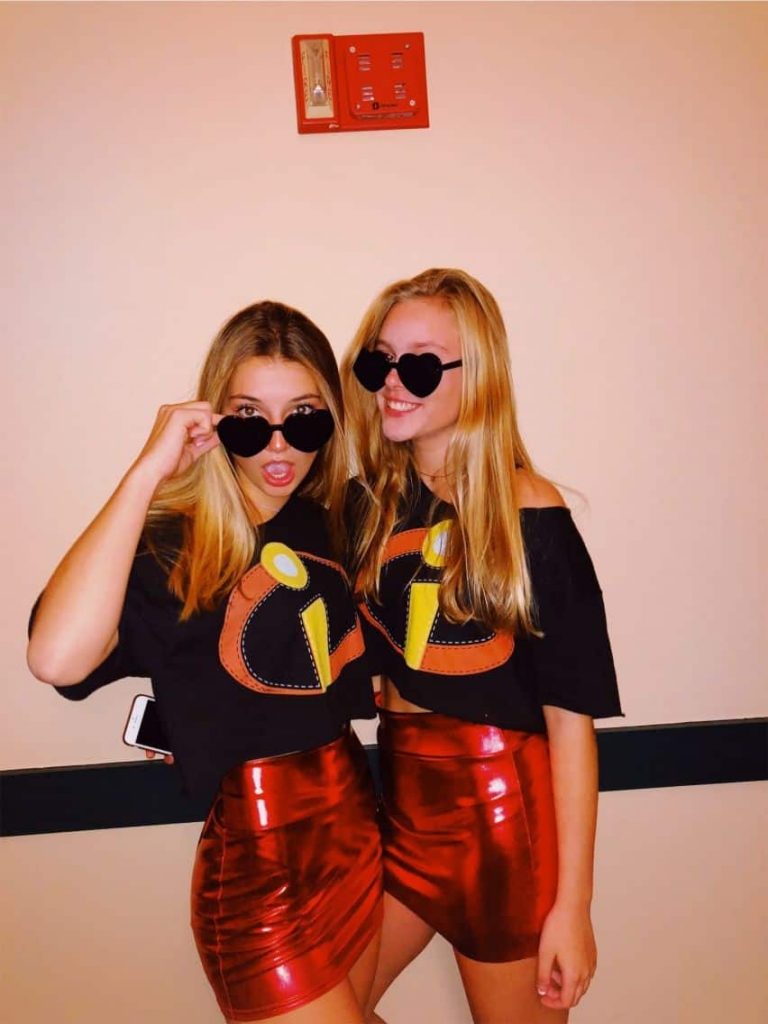 Buy incredibles costume:
This incredible costume for girls is super fun to do with your BFF.
Copy this costume with a black Incredibles t-shirt. Tuck it into a red metallic skirt for a super cute costume.
I love how easy it is to recreate this costume, yet it looks so good!
2. Fire and Ice Halloween Costume College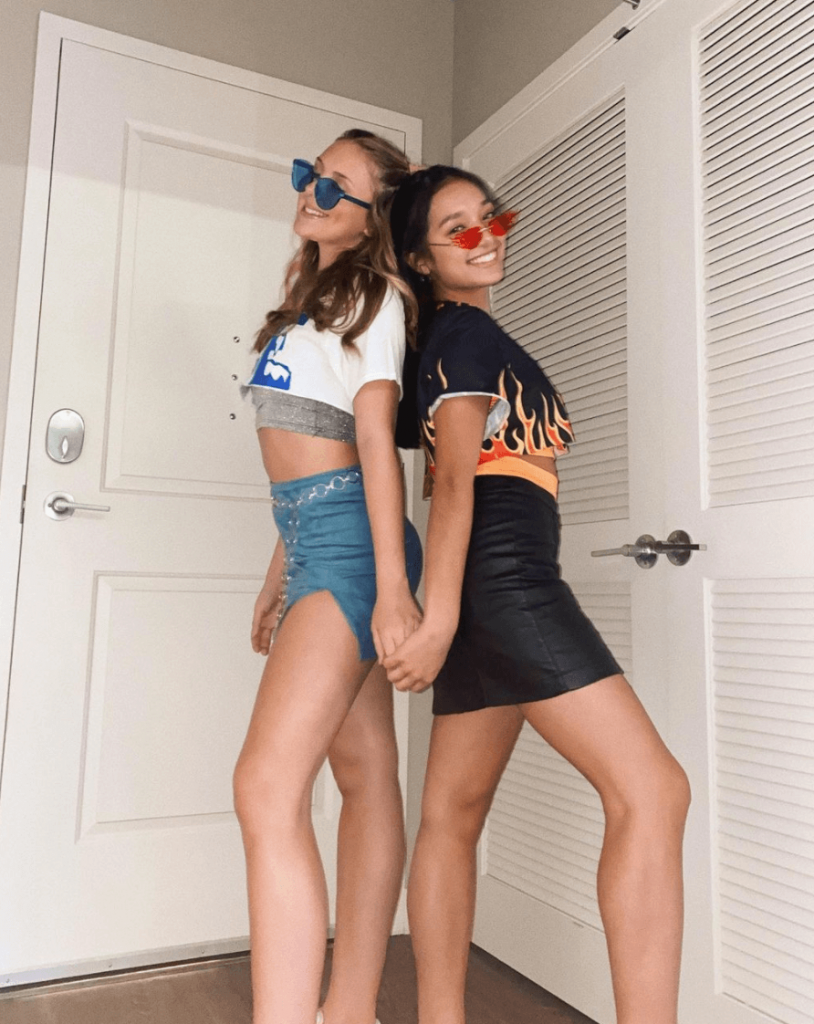 Buy fire and ice costume:
OK, I'm obsessed with how cute this fire and ice costume is for best friends!!

Recreate this Halloween costume with a flame crop top and an ice-cold t-shirt for your bestie.
A super nice touch to this duo costume for college girls is the metallic blue and red sunglasses.
3. Moon and Stars costume for friends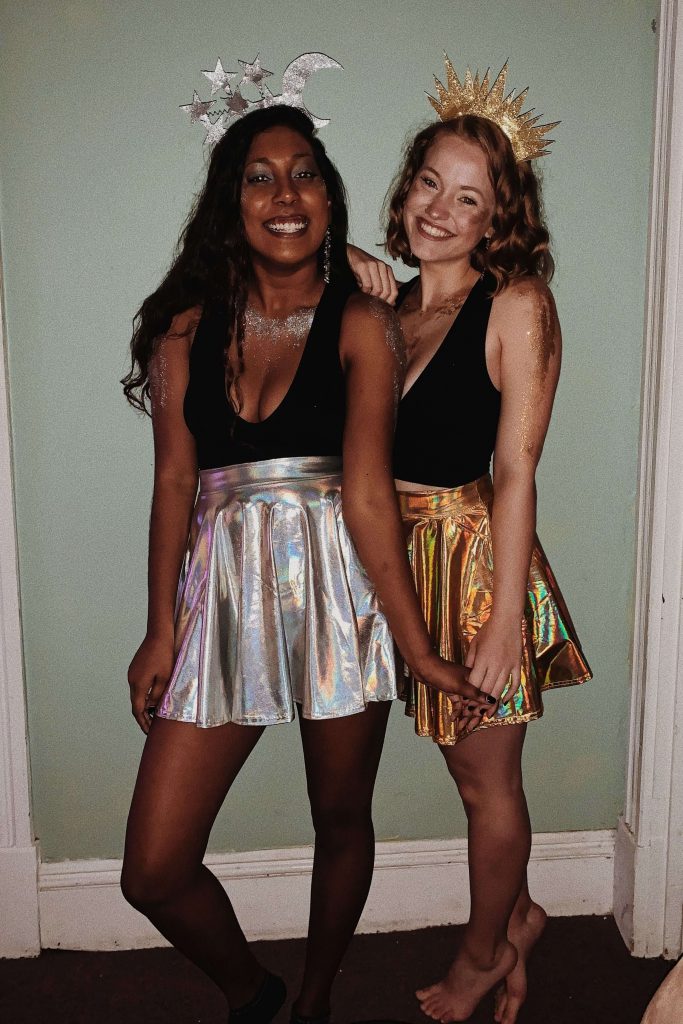 Buy moon and stars costume for friends:
This duo moon and star costume are so cute! While on the theme of galaxy Halloween costumes, a sun and moon costume would be equally cute.
ACTUALLY. What is this costume? Moon and stars or sun and moon?
Regardless of which galaxy costume you go for, this Halloween costume is super budget-friendly.
You can also rock this costume for groups or with 3 friends.
4. Maddy Perez and Cassie Euphoria costume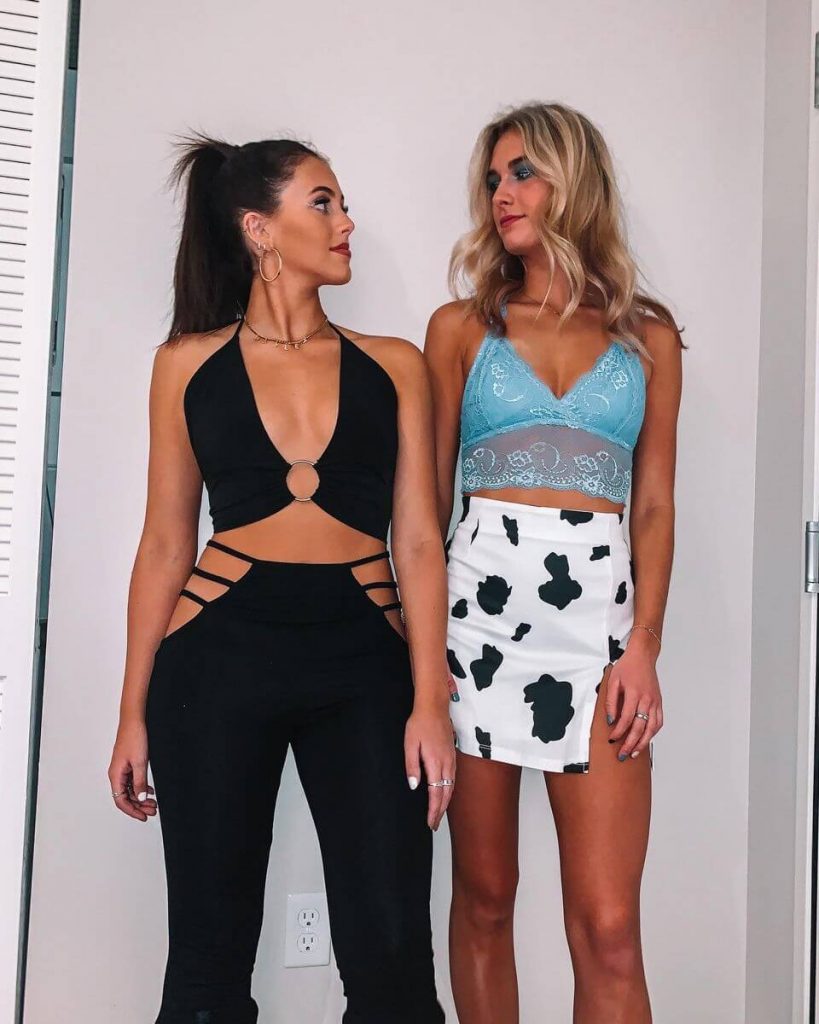 Get Euphoria costume for friends:
Any fans of the HBO Max series Euphoria? I really loved it, and the girl's outfits were SO good.
Cassie wore the cow print skirt in episode 6, and I've honestly never seen anyone that rocks the print better!
Maddy's black cutout outfit is to die for too. I mean those strappy cut-out trousers!!
Not everyone might recognize you at your Halloween party, but the Euphoria fans will know instantly.
5. Donna and the dynamos halloween costume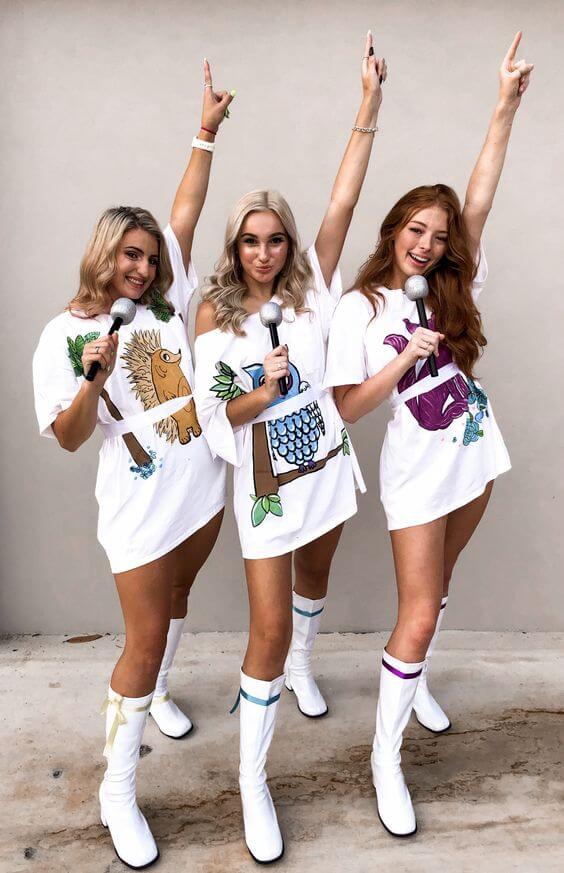 Buy Donna and the Dynamos costume:
Donna and the dynamos costume is a great Halloween costume for friends!!
All you need to rock this costume is an oversized dancing queen t-shirt and white patent booties.
6. Cave girl halloween costume college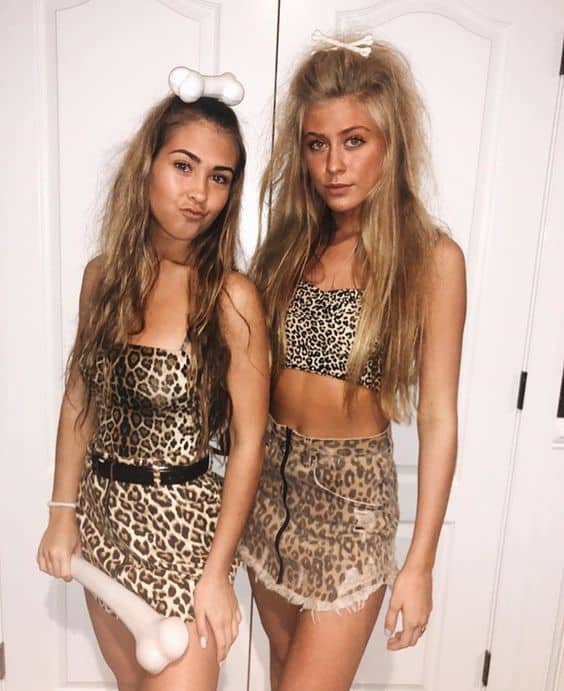 Buy Cave Girl costume:
The cave girl costume has become such a Halloween party classic, but I love it.
Create matching cave girl costumes with your bestie. All you need is all the leopard print you can find, lol!
7. Genie costume for friends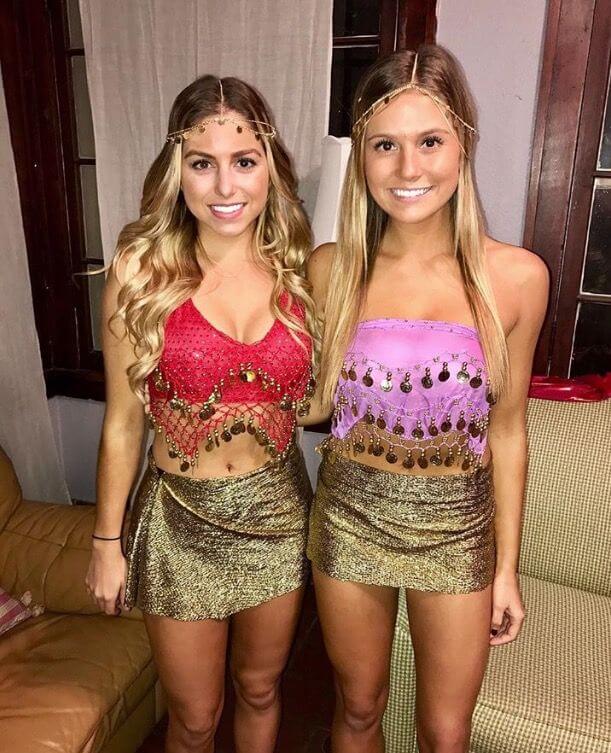 Buy Genie costume:
This genie costume or belly dancer costume is the cutest!! Duo costumes with friends are fun because they allow for great photo ops.
This Halloween costume with a belly dancer top looks super cute and is available in many different colors.
8. Thing one and thing two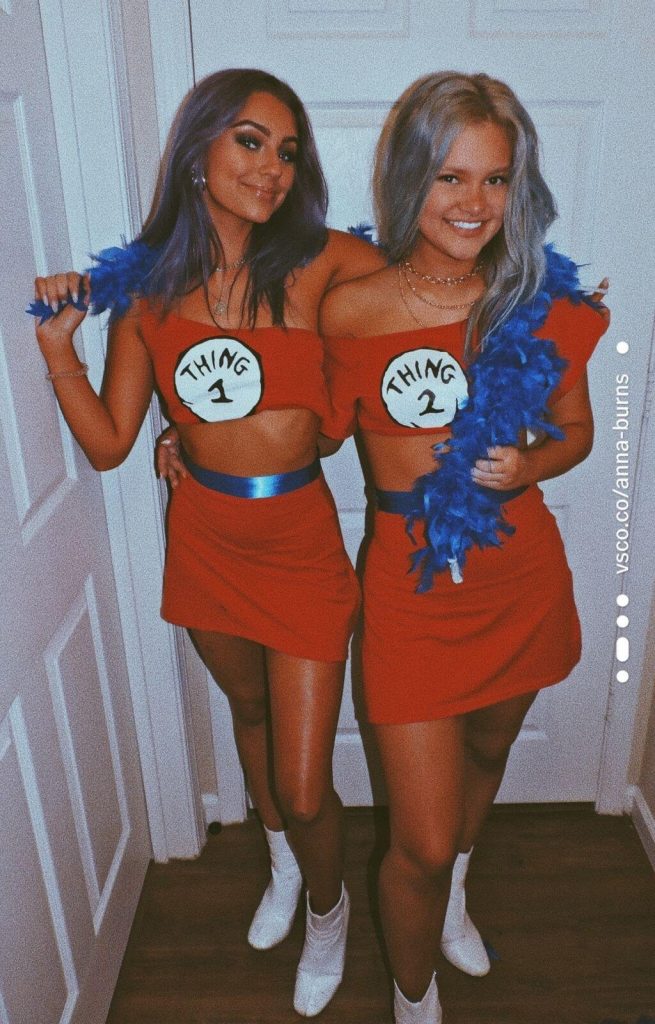 Buy Thing one and Thing two costume:
I didn't know thing 1 and thing 2 costumes were so popular, but boy, they are!!
You can get this Dr. Seuss Halloween costume in onesies, t-shirts, crop tops, and so many more things.
This college girl duo Halloween costume is super easy to recreate, and Dr. Seuss fans will love it.
9. College girl duo halloween costume pirates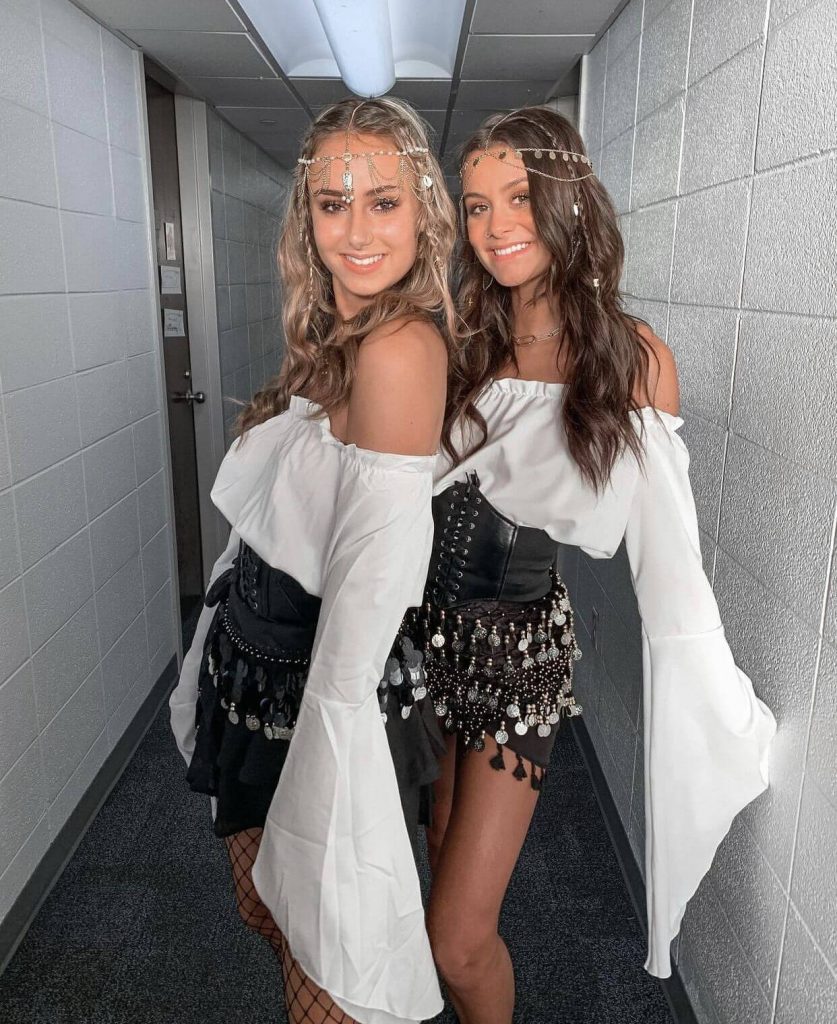 Buy hot pirate duo costume:
The hot pirate Halloween costume never gets old!! I love how fashionable and flattering these costumes are.
This costume would be perfect to wear with your bestie to a college Halloween party.
10. Lilo and Stitch halloween costume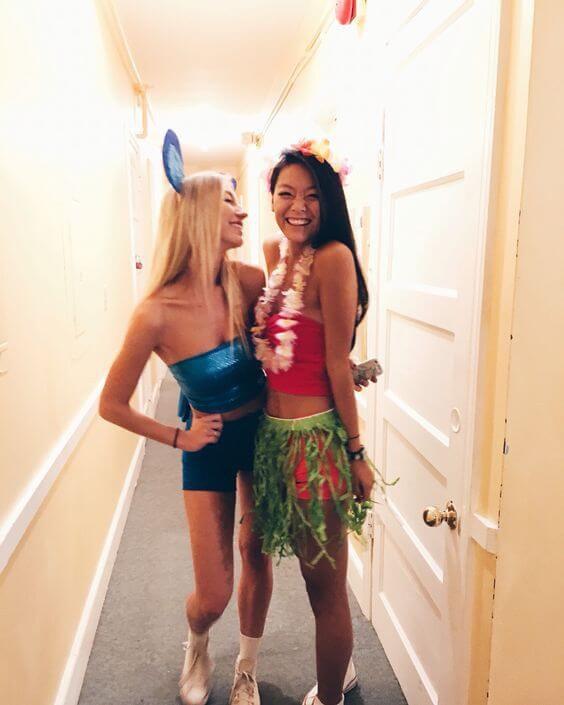 Buy Lilo and Stitch Costume:
This is the kind of dynamic duo anyone should aspire to be this Halloween!! Haha.
Lilo and Stitch are the cutest, and it's such a fun costume to do with your best friend.
11. Bratz halloween dolls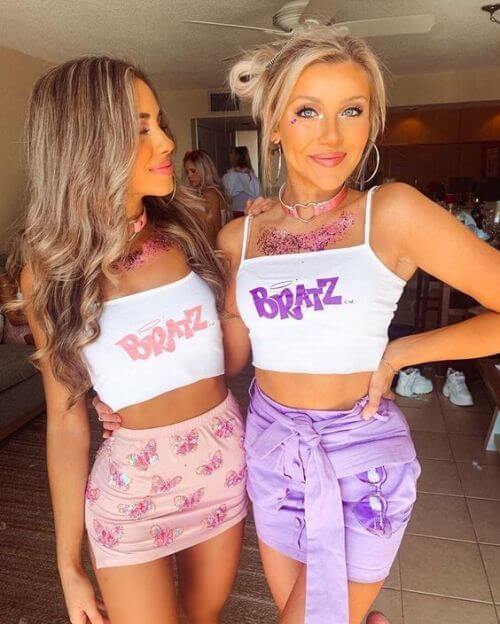 Buy Bratz Halloween Costume for College girls:
Not everyone is crazy about Bratz dolls, but they make for a cute college girl Halloween costume.
It's crazy how easy it is to find Bratz outfits for Halloween on Amazon. But that does make it a ton easier to decide on your Halloween costume last-minute.
My favorite thing about this costume? The insanely good pink sunglasses!!
12. Spongebob halloween costume girl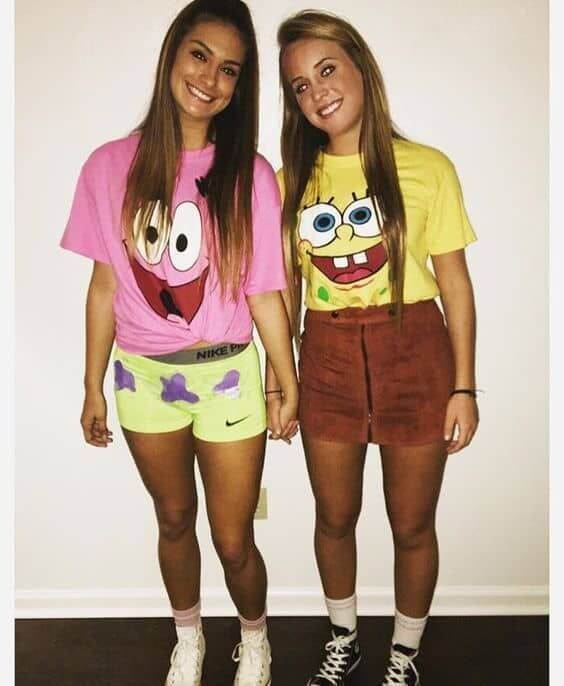 Buy Spongebob and Patrick costume:
Spongebob and Patrick definitely deserve a spot on the best college girl duo Halloween costumes ideas in 2021.
Although Spongebob and Patrick have a bit of a love-hate relationship, I think we can still call these a dynamic duo.
Also, this is the perfect easy last-minute Halloween costume to come with! I got you, lazy ones.
13. Peanut butter and jelly sandwich costume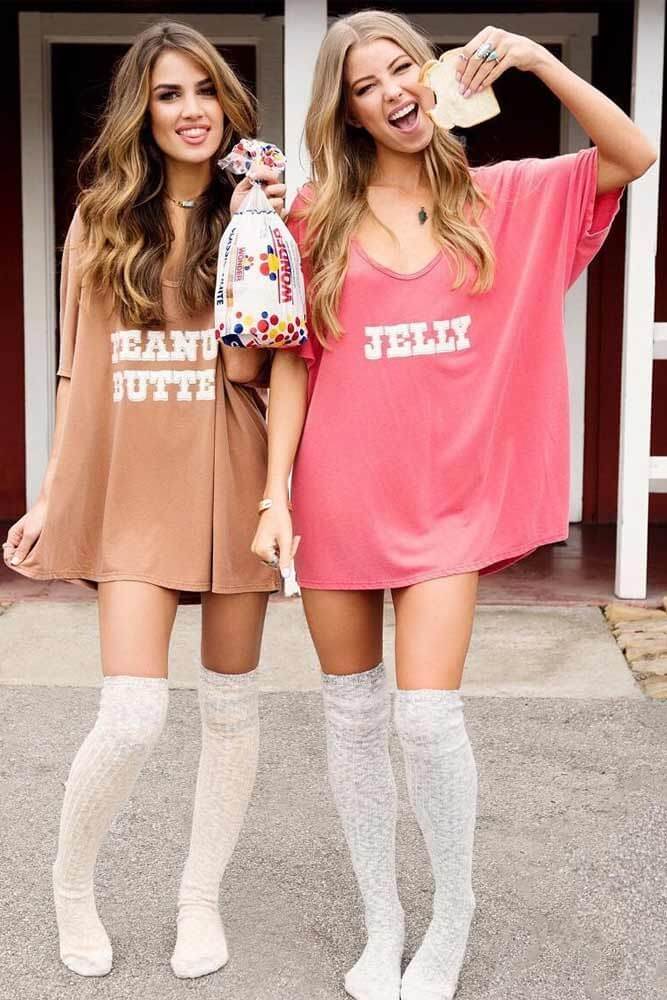 Buy Peanut butter & Jelly Oversized T-shirts:
Can we call two besties in a peanut butter and jelly sandwich Halloween costume a dynamic duo? I sure think we can!!
It's ridiculous how cute and easy this Halloween costume is. Literally, all you need is two oversized T-shirts. You can print them yourself or get matching peanut butter and jelly t-shirts on Amazon.
14. Cute girl scout halloween costume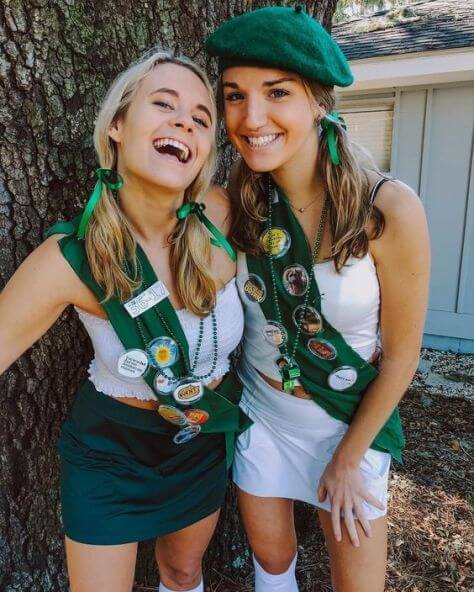 Buy girl scout costume:
Everyone loves a good old nostalgic Halloween costume!! Put your beret and your sash on, and transform into the cutest girl scout for Halloween.
15. 80s aerobics Halloween costume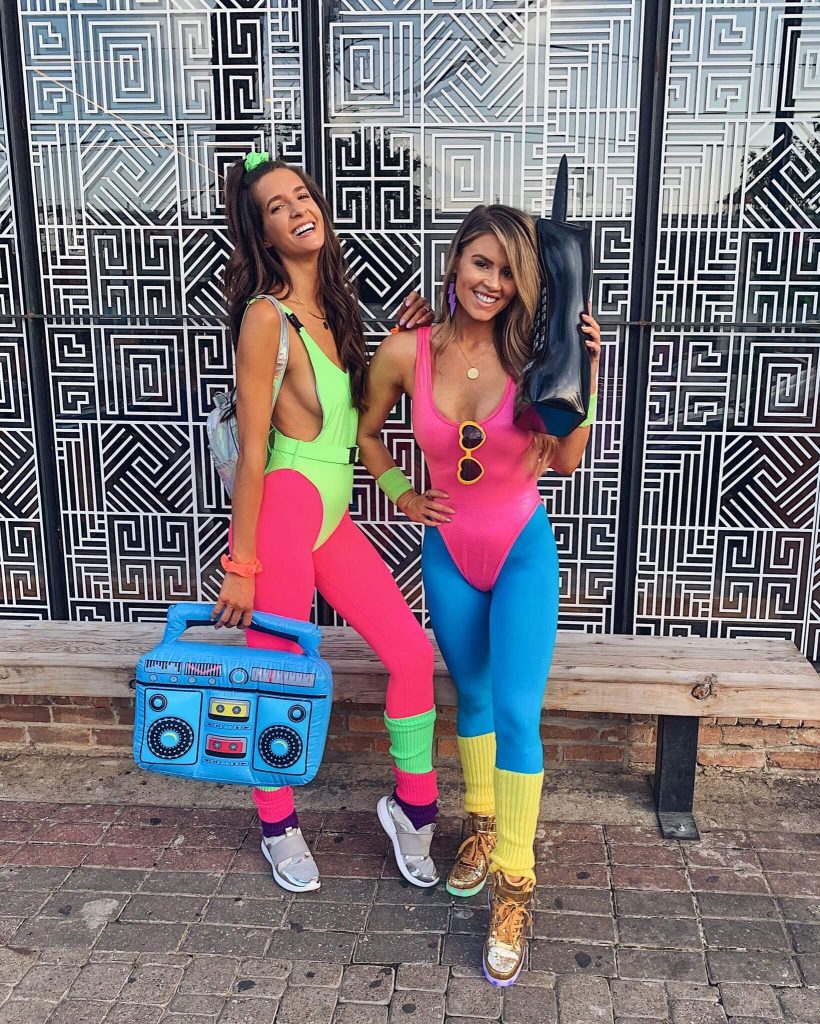 Buy 80s Aerobics Halloween costume:
Yes, these neon colors hurt your eyes, but how good is this 80s aerobics Halloween costume for college parties?!!
Mismatch neon green, pink, and yellow for the coolest 80s aerobics costume. Don't forget the neon scrunchies and yellow leg warmers.
16. Girl boxer halloween costume robe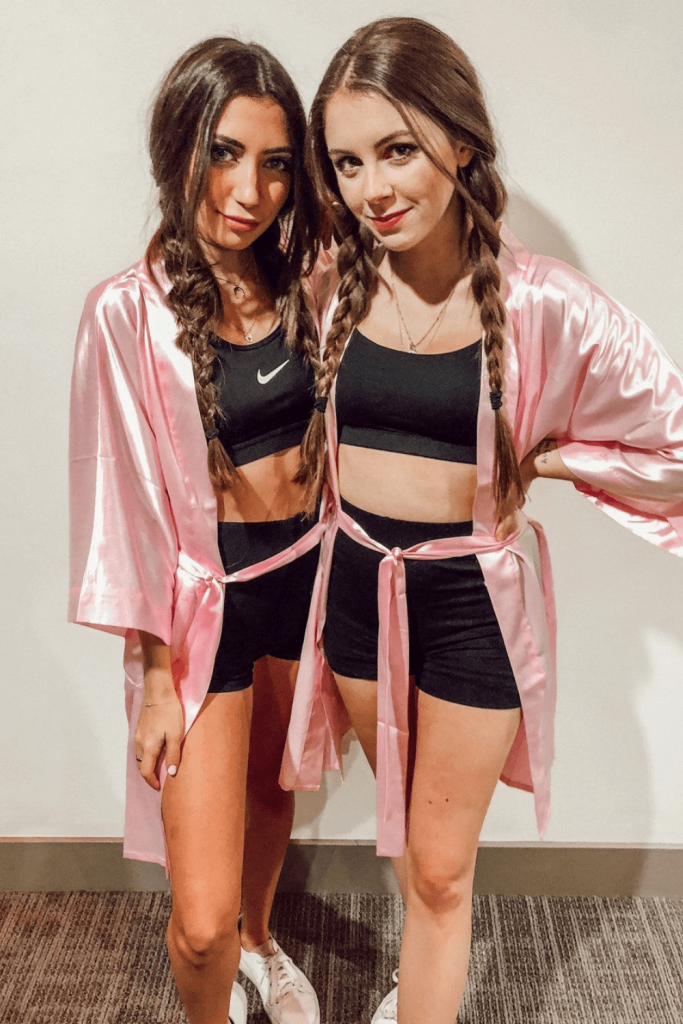 Buy boxer halloween costume for girls:
Get that boxer girl vibe on, and put on your pink robes!! This Halloween costume for friends is adorable, and you can recreate it with items you have in your closet.
17. Greek goddess halloween costume college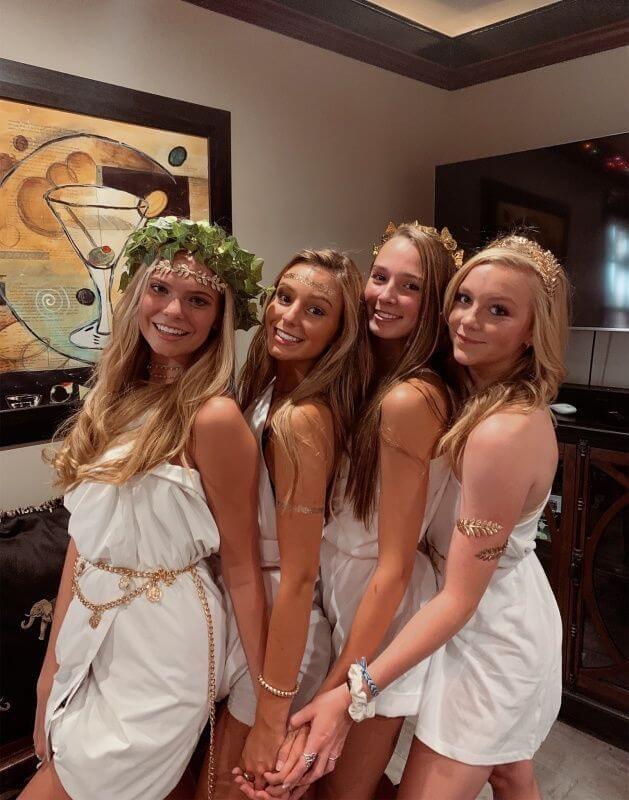 Buy Greek goddess costume accessories:
I love a good Greek goddess costume, and this one is so fun to do with a group of friends.
Create a white wrap dress from old sheets or towels. All else you really need are some top-notch (but inexpensive) Greek goddess costume accessories.
18. College girl duo barbie costume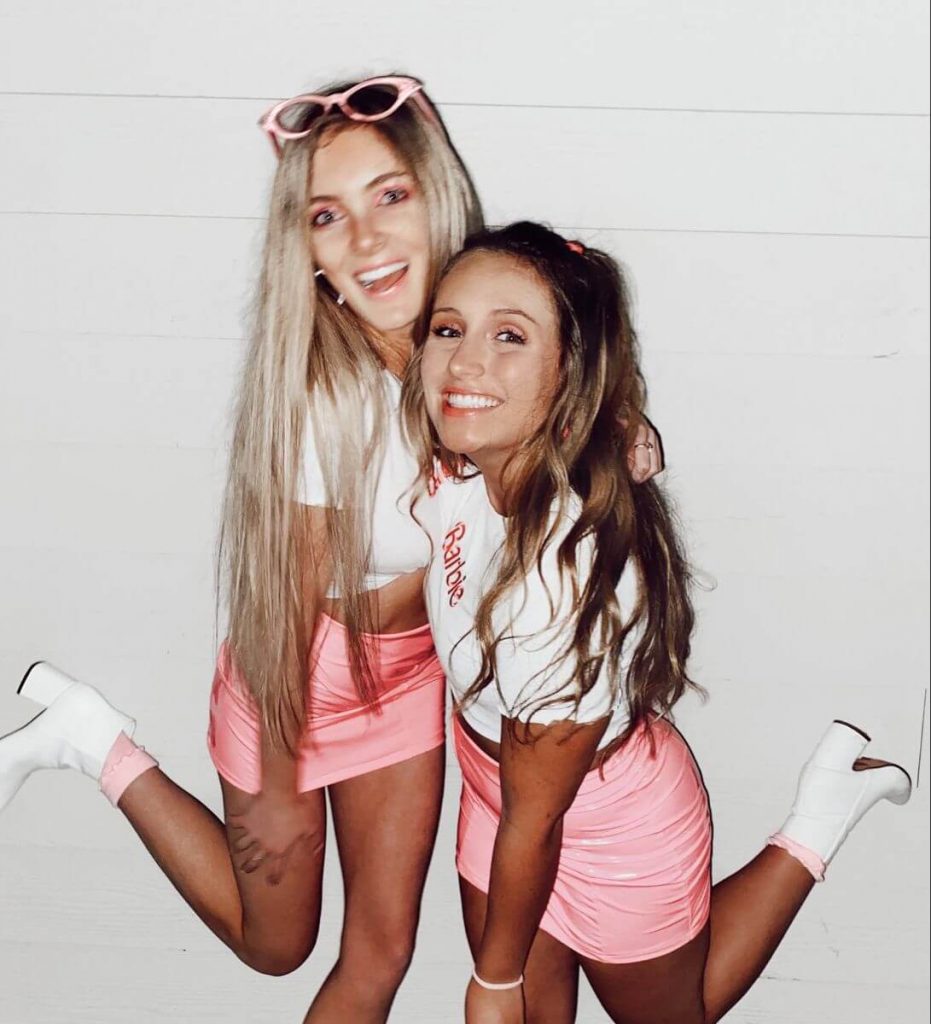 Buy duo barbie costume:
Last but not least, your cutest barbie costume for besties!!
There are so many different ways to do this costume, and they're all good. Motto: the pinker, the better.
The barbie costume is easy and budget-friendly. You or your friends might have some items you can use for this costume!
This post showed you the 18 Best College Girl Duo Halloween Costumes In 2021.
You may also like: